Word Academy is a brain-bursting Word game you should download right now. The Word Academy, developed by Scimob, is not your typical word game that you can find in Play Stores and App Stores today because this challenges the every bit of your brain to squeeze out your creative juices in identifying the best word each game grid hides. This is a level-based experience game that if you are not into words and has a poor vocabulary, you'll probably end up scratching your head thinking what is the best word hidden in the grid for you to advance to the next level.
Word academy all levels answers:
Are you a fan of app games like 94 seconds, 94 percent and 94 degrees that have challenged your brain in conquering each level tremendously? Then probably, you'll get hooked once again to the latest game release of Scimob with its word game that will challenge you vocabulary to the edge with its app game Word Academy.
Advertisement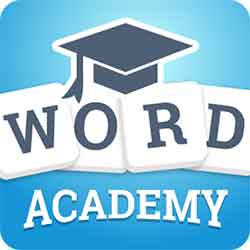 The words in this game can be formed by tapping or dragging the letter tiles one at a time to create words horizontally, vertically or diagonally. The more you'll be able to complete each level, the more you receive hints that will help you solve the future stage levels. And if you think that forming words in the first levels is as easy as one, two, three… well, think again; because as the level increases, the more the game Word Academy becomes difficult. As your level progresses, it became even harder for you to identify the word it wants you to find out. And if you think that you got stuck in the game, it's definitely not a bug as this only tells you that you got the wrong letters to connect or have the solved the words in a wrong order. So if you're still determined to get the words right, might as well consider hitting the reload button and try solving the words in a brand new order.
When you compare this game to other word game that is now available for download, you'll realize that Word Academy is very simple and easy to learn. In fact, this is a great way to kill time while you wait for the train or a board meeting. And aside from the entertainment it can provide you, it can also enrich your vocabulary skills which make this game highly recommended for kids in improving their knowledge with words. In addition to this, this game does not only challenge you to create words out of the letter tiles displayed in the grid, but it force you to do critical thinking as this has some questionable word choices that compel you to use hints. There are instances that we thought that we got the right word immediately upon seeing the title, but when we tried to connect and create a word, it will prompt you that it's looking for another word that uses the same letter. This might sound stressful, but this happens so you should not be too complacent with what you really know.
Either way, if you are looking for a word game that is worth downloading and spending time with, then it's the Word Academy exclusively developed by Scimob for app game enthusiast like you. This can be downloaded for free in Google Play Store and App Store in iTunes in its current 1.0.7 version with a file size of 10mb. So what are you waiting for? Download now and unlock hundreds of grids that are made of mystery words only at the app game Word Academy.
Download Word Academy for Android on Google Play:
Download Word Academy for iOs on AppStore:

Word Academy for Facebook?


Unfortunately, this game is not yet available for facebook. Visit us again for updates. We will provide the game link as soon as it will be available.