Welcome to Word Academy Magician pack. In order to play Magician pack, first you have to pass the Elf pack.
Word Academy is a brain-bursting Word game you should download right now. Word Academy is not your typical word game that you can find in Play Stores and App Stores today, because this game challenges the every bit of your brain to squeeze out your creative juices in identifying the best word each game grid hides. This is a level-based experience game that if you are not into words and has a poor vocabulary, you'll probably end up scratching your head thinking what is the best word hidden in the grid for you to advance to the next level.
By clicking on each level you will be redirected to the level page, where the answers are given by video.
Advertisement

Word Academy Magician Answers:
Level 1 : Bracelet – Diamond – Ruby – Silver
Level 2 : Newspaper – Magazine – Text – Read
Level 3 : Sandal – Slipper – Heel – Moccasin
Level 4 : Sky – Blueberry – Sapphire – Smurf
Level 5 : Butterfly – Kite – Balloon – Plane
Level 6 : Wind – Tornado – Flood – Hurricane
Level 7 : Ballet – Tango – Modern – Ballroom
Level 8 : Soft – Wet – Rough – Smooth – Texture
Level 9 : Adjective – Essay – Noun – Grammar
Level 10 : Dentist – Whiten – Clean – Filling
Level 11 : Crayon – Marker – Chalk – Charcoal
Level 12 : City – Skyscraper – Traffic – Loud
Level 13 : Letter – Gesture – Message – Email
Level 14 : Stomach – Thigh – Wrist – Forehead
Level 15 : Saxophone – Brass – Horn – Trumpet
Level 16 : Dash – Period – Hyphen – Semicolon
Level 17 : Box – Carton – Container – Storage
Level 18 : Blood – Strawberry – Poppy – Heart
Level 19 : Scale – Ruler – Gauge – Scope – Level
Level 20 : Tap – Hiss – Gurgle – Splash – Squeak
Finished Word Academy Magician? Just pass on the other pack, Word Academy Pirate Answers.
If you want the answers to a different pack just go to the home of Word academy answers.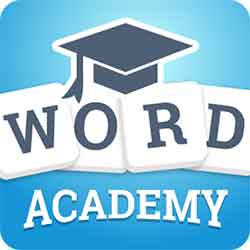 This is the latest game of Scimob, the same company that developed games like 94% and 94 degrees. Word Academy can be played on both Android and iOs devices. At the time of this article, there is no version for Facebook users.
Pay attention that SOMETIMES there are more than one way to solve the first word.
So even if you can find the solutions in our site, the way you solve the first word may influence the solutions of the other words. On simple advice is to always use the letters adjacent to each other, or if you prefer to watch the video by clicking on each level in the above list.
If you still have problems, let us know by commenting below. We will replay with clear instructions as soon as possible.
PS: If you are searching for the answers of another game, please let us know using our contact form.